Swami Om on Bigg Boss 10 finale: I will break Salman Khan's bones
Swami Om on Bigg Boss 10 finale: I will break Salman Khan's bones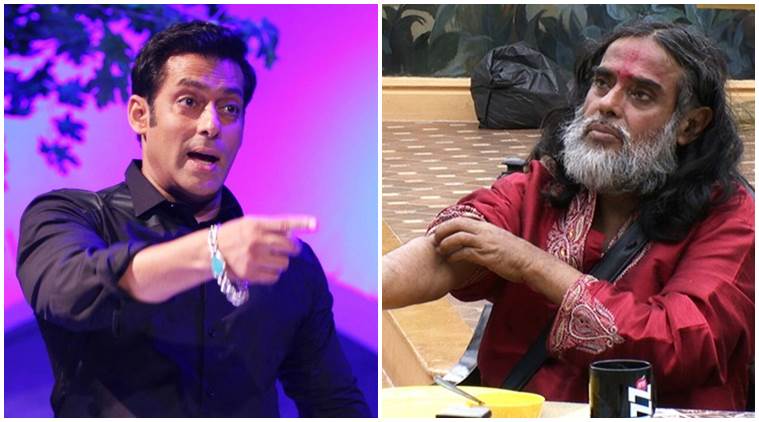 Bigg Boss 10: Swami Om also claimed that he slapped Salman Khan on the New Year's eve.
Controversy's child and former Bigg Boss 10 contestant, Swami Om, has yet again expressed his displeasure at being unceremoniously ousted from the controversial reality show. Also, he is spoiling for a fight with Bollywood's Dabangg Khan and show's host, Salman Khan. After calling the actor an ISI agent, an anti-national and allegedly slapping him on the New Year's eve inside the house, now the self-styled godman has promised to break Salman's bones.
In an interview with a publication, Swami Om reacted on being invited to the finale of the show which is scheduled for January 28. He said, "Deshdrohiyon ke finale me hum aag lagane aa rahe hai. Salman Khan ki haddiyan todne jaayenge (I am going set fire to the finale of these anti-nationalists. I am going to break Salman Khan's bones)."
More from the world of Entertainment:
It seems as if Swami's courage has touched the sky after the channel Colors sent him an invitation for the finale. Considering Salman's warning to the channel that Swami should never return, we wonder what prompted the makers of the show to choose Swami over Salman.
Watch | Swami Om's controversial videos 
#Exclusive Swami Om splashes water on NWI anchor during the show#SwamiOmpic.twitter.com/N5DsILajx6

— News World India (@NewsWorldIN) January 12, 2017
[embedded content] [embedded content] [embedded content]
Swami's controversial stay inside the house is all the news now. Even those who didn't catch up on the show are aware of his cheap antics and his unacceptable comments on the family of his fellow contestants. And for those who missed the action inside the house, his interviews to news channels are giving him added notoreity. Though he managed to save himself from being beaten up inside the house because of the rules but in the real world, Swami Om was beaten by the audience of a chat show.
© The Indian Express Online Media Pvt Ltd
<
p class="wpematico_credit">Powered by WPeMatico