Sheron Ka Zamaana: SRK-Nawazuddin Siddiqui's enmity gives Raees its spark
Sheron Ka Zamaana: SRK-Nawazuddin Siddiqui's enmity gives Raees its spark
Written by
Samarpita Das
| New Delhi |
Published:January 19, 2017 10:13 pm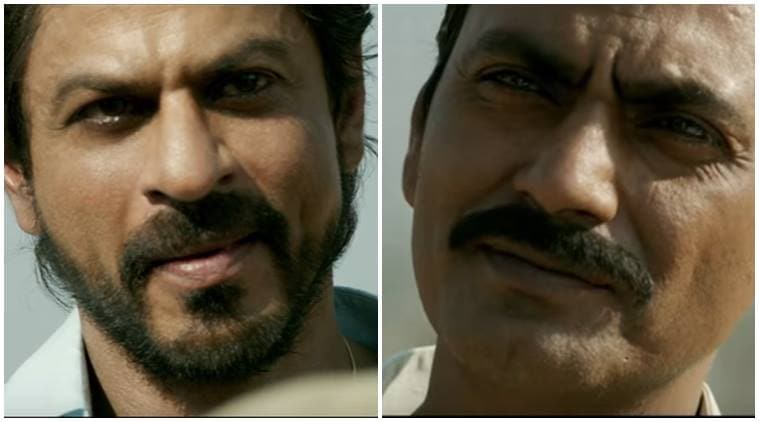 It seems Shah Rukh Khan and Nawazuddin Siddiqui will create history in Bollywood for their excellent performance as on-screen rivals.
You have seen Shah Rukh Khan famously as Raj, Rahul, Aman and even as Devdas. In 2017, he is going to appear as Raees Alam and it seems this kind-hearted villain has a destined enemy, ACP Ghulam Patel who is determined to catch him red handed at his illegal business.
Although the film has not released yet, we still can safely say, Shah Rukh Khan and Nawazuddin Siddiqui's role in Raees will always be remembered for their arch rivalry in the history of Bollywood cinemas.
More from the world of Entertainment:
The trailer begins with Raees expressing fear through his eyes when he comes to know that ACP Ghulam Patel will head the crime branch in his area. He hides his fear with an expression of arrogance and sunglasses. As for ACP Ghulam Patel, you can almost see a hidden joy in his eyes when he tells Raees to get used to the taste of the tea that is served in jail, hinting that he (Raees) will be put behind bars very soon.
Watch: Sheron Ka Zamaana | Shah Rukh Khan, Nawazuddin Siddiqui | Raees | Releasing 25 January
[embedded content]
The highlight of this promo of Raees is when Nawazuddin tells Shah Rukh Khan, "Din ache chal rahe hai tere", to which the latter replies, "Din aur raat logon ke hote hai, sheron ka zamana hota hai," and soon a haughty Raees kicks off the tea served to him.
Also read: Raees vs Kaabil: Shah Rukh Khan, Hrithik Roshan launch dialogue promos. Who wins?
Shah Rukh Khan plays the role of a bootlegger and Nawazuddin is a police officer who is hell-bent to destroy his business.
© The Indian Express Online Media Pvt Ltd