Salman Khan acquitted in black bucks poaching case
Salman Khan acquitted in black bucks poaching case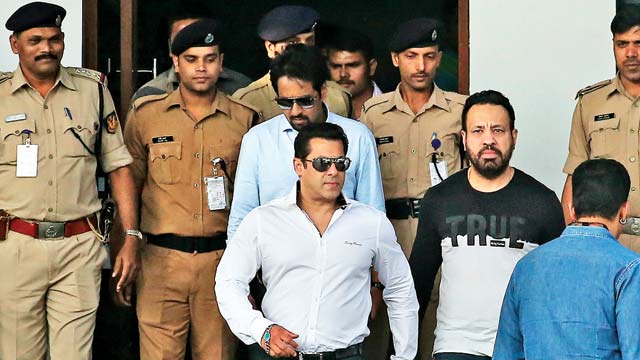 In a major relief to Bollywood actor Salman Khan, the trial court here acquitted him in the poaching case. The actor was charged under the Arms Act for keeping and using firearms with expired licence while poaching two black bucks in village Kankani near Jodhpur on 1-2 October 1998.
Chief Judicial Magistrate Dalpat Singh Rajpurohit did not find him accused under Sections 3/25 and 27 and termed the prosecution permission by then district magistrate Rajat Kumar Mishra a mindless move, because of which Salman had to suffer for 18 years.
"The prosecution permission by the district magistrate was given without applying mind and was non-speaking and non-regent in nature," the court said.
The order said that the licence of Khan's arms in question was valid for three years, and at the time of the alleged poaching, it was just not renewed, which did not mean, it has expired.
"In such a situation, only the licence was invalid and not the arms. Therefore, an offence under Section 21 of the Arms Act could be made out against him for non-renewal of licence instead of Sections 3/25 and 27," the court said.
The court also questioned the statements of the station house officer of the Luni police station, Ravindra Pratap Singh, that he did not investigate the case and filed the charge sheet in court as per directions.
Salman, who was present in the court, refrained from making any reaction. Some advocates extended blank papers to him seeking his autographs through his bodyguard Shera and the actor did not disappoint them.
The decision also cheered his fans, who had assembled in large numbers to get a glimpse of the star.
With one more case of poaching against him yet to be decided, Salman will have to appear in the same court on January 25 for recoding statements. Saif Ali Khan, Tabu, Sonali Bendre and Neelam will also appearing in the court the same day.
<
p class="wpematico_credit">Powered by WPeMatico