Relationship farce on reality shows
Relationship farce on reality shows
Nothing is private anymore. Everything —from engagements to marriage — is a game of TRPs on reality shows. In fact, actors declaring their love, getting engaged and proposing marriage to their beaus has become de rigueur. And once the show is over, so is the relationship. But that hasn't stopped Bigg Boss 10 contestant Monalisa from tying the knot with her beau Vikrant Singh on national television. Here, we give you other instances of couples, who either got engaged or married on shows, only to part ways later…
Bigg Boss 4
Sara Khan and Ali Merchant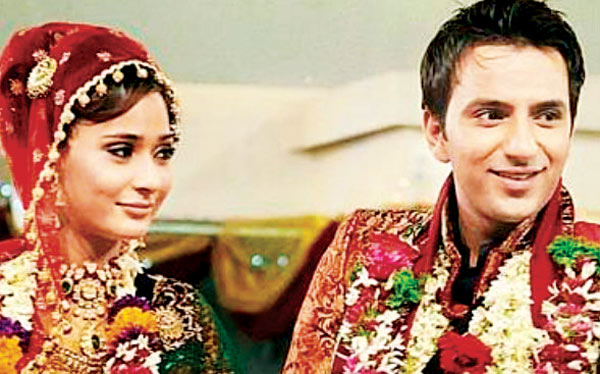 There are a lot of similarities in the way these two and Monalisa-Vikrant got hitched in Bigg Boss. Sara and Ali were dating when she went inside the house. A few weeks into the show, she started getting close to Ashmit Patel and even tore a picture of hers and Ali's which she had posted on the walls. Ali, who was watching the proceedings had then said, "I've been having sleepless nights as I'm being hounded by the media regarding this issue. Every relationship has its ups and downs." Soon, he went inside the house as a wild card entrant and in no time, got married on the show! They were said to have been paid a hefty amount to get hitched. It's a different thing that after all the hullaballoo, the two separated within two months after coming out of the house.
Bigg Boss 5
Maheck Chahel and Danish Khan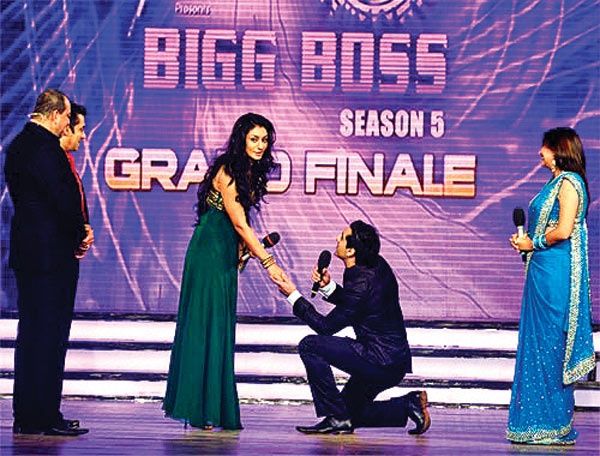 Maheck Chahel was surprised to receive a proposal from Danish Khan, her boyfriend of four years, during the finale of the show. Danish went down on bended knee and proposed to the actress with a ring. However, the couple split within a year and Maheck is now dating Ashmit Patel.
Rakhi Ka Swayamvar
Rakhi Sawant and Elesh Parujanwala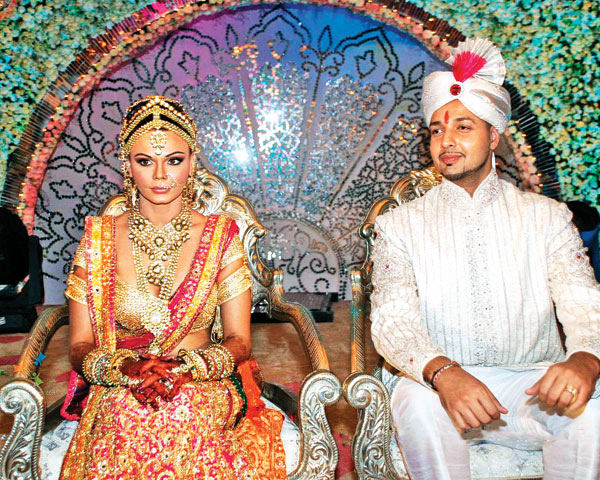 At her Swayamvar, she chose Elesh, an NRI as her suitor. The two were engaged on the show amidst a grand celebration and went on do a reality show Pati, Patni Aur Woh in which the two were all over each other and even engaged in a lip-lock. Howewer, the passionate romance turned sour soon, with both of them making ugly accusations against each other. While Elesh who was from Toronto has returned, Rakhi continues to be a drama queen.
Nach Baliye 7
Upen Patel and Karishma Tanna
Upen and Karishma fell in love in Bigg Boss, but it was on Nach Baliye 7 that Upen proposed to Karishma, fairy-tale style. Upen went down on his knees with kids holding 'Please Marry Me' placards around him. Karishma looked rather taken aback said yes and Upen slipped a ring in her finger. Karishma's mother and sister were present and his family blessed the couple from London through Skype. The two went on to do a couple of more reality shows and even hosted one called Love School. But their love didn't last long as they parted ways after two years by posting messages on Twitter.
Ratan Ka Rishta
Ratan Rajput and Abhinav Sharma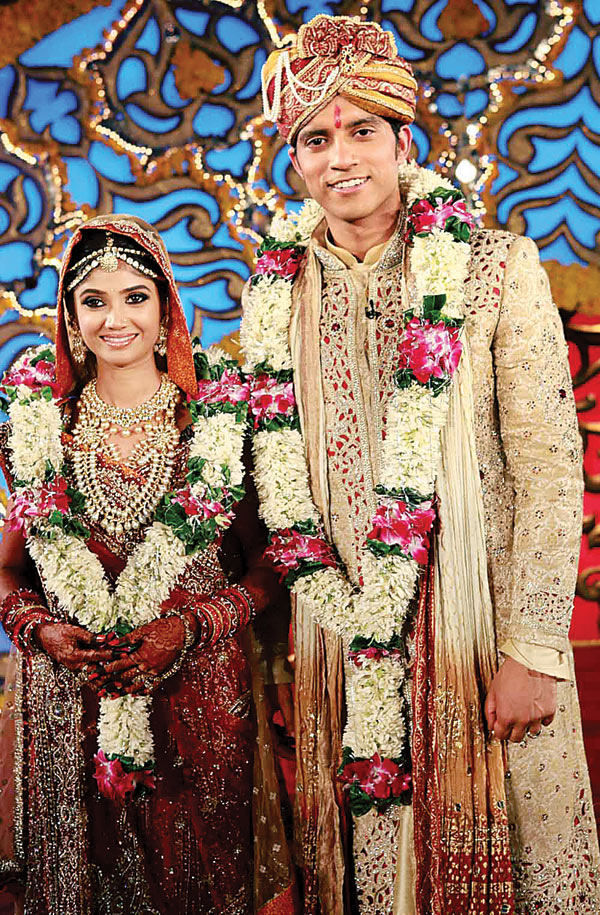 After Rakhi Sawant and Rahul Mahajan, Ratan Rajput took part in a swayamvar. She chose a software engineer Abhinav Sharma as her groom, but only got engaged to him on the show. Within a year, they split over "issues which couldn't be sorted out".
Rahul Dulhaniya Le Jayega
Dimpy Ganguly and Rahul Mahajan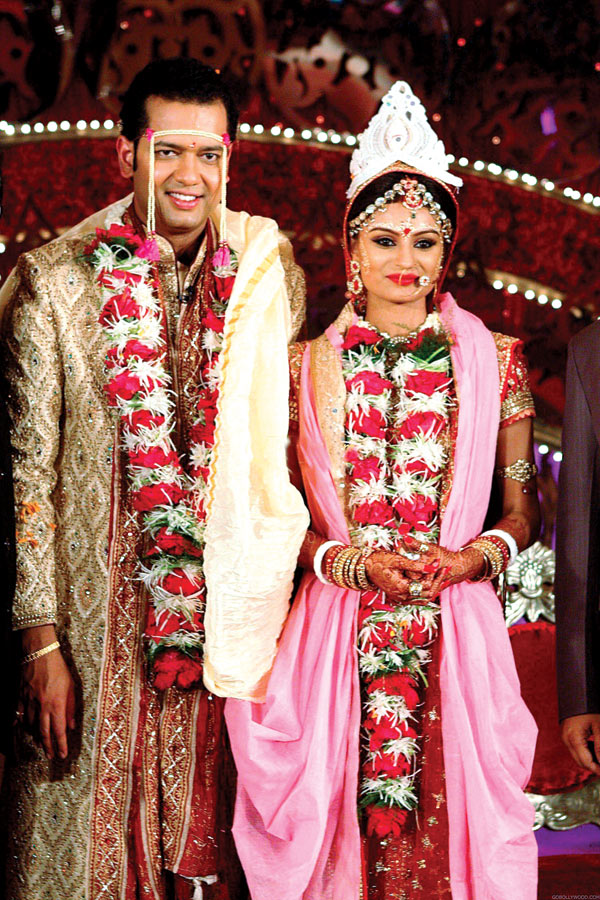 Rahul, who was a divorcee went looking for a dulhania a second time, this time on national television. He chose Kolkata girl Dimpy as his bride and got married in March 2010. Within three months, Dimpy called a press conference and accused her new husband of domestic abuse and subsequently, the two got divorced.
Mere Khayalon Ki Mallika
Mallika Sherawat and Vijay Singh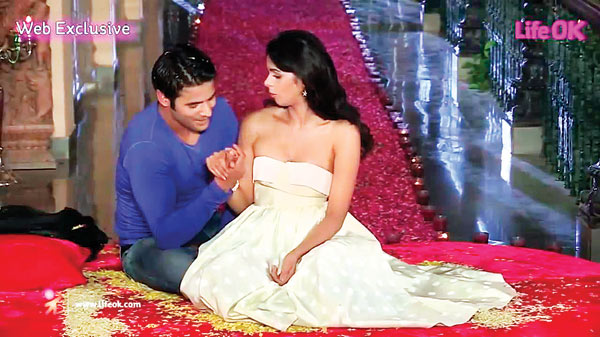 Mallika Sherawat did the Indian version of The Bachelorette, which had guys competing to win her heart. She chose Vijay, who was over a decade younger to her as her life partner. But a few months after the show got over, she left him "heartbroken" as he said in an interview blaming the age gap and their long-distance relationship (She in LA and he in India).