'Raees' Vadodara incident: Arrangements were foolproof, fans are star-crazed, says DG-RPF
'Raees' Vadodara incident: Arrangements were foolproof, fans are star-crazed, says DG-RPF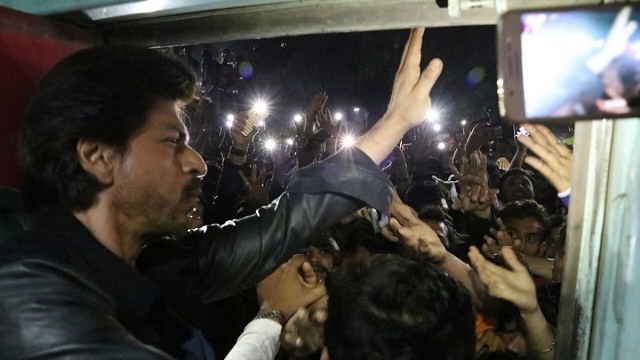 The crowd and commotion at Vadodara station at the arrival of film superstar Shah Rukh Khan on the August Kranti Express late on Monday night resulted in the death of one person of a heart attack, but Railway Protection Force (RPF) Director-General SK Bhagat called all the arrangements 'foolproof'. Speaking to DNA, he said the crowd was only natural because the 'fans are star-crazed and Shah Rukh Khan is a big film star with a huge following'. He called the death of Vadodara-resident Fareed Khan as 'unfortunate' and added that the man was possibly a heart patient.
Defending the turn of events, Bhagat told DNA that his force had been consulted in time by the railway bureaucracy. He said the force was in full strength at the station and along with a larger contingent of Gujarat railway police, managed to ensure that 'everything went off smoothly'. Giving the railway bureaucracy a clean chit, Bhagat said that there was no problem in organising such events in the future as well as long as the force was consulted in time.
"There were about 40-45 RPF personnel and 100 GRP personnel including 20 women constables which was adequate for the crowd. The problem was that some people on the platform near the window of the compartment Khan was in, started running along with the train. This is dangerous as people could have fallen into the gap between the platform and the train. So the RPF and GRP took measures to safeguard the people. I don't think there was any lathi-charge," Bhagat said.
However, several RPF officers DNA spoke to on the condition of anonymity disagreed with their chief. These officials claimed that such PR events are given permission by the office of the Chief Public Relations Officer (CPRO) and most of the times the RPF was not consulted. "If at all we are consulted, it is after the event has been given the go-ahead. We are never called in to make a security-risk assessment before the event is sanctioned. Once it is sanctioned, we are called in for deployment of personnel. This lack of logic leads to events such as the one that happened at Vadodara," said an RPF personnel.
Defending his office, WR CPRO Ravinder Bhakar said that the railways itself got to know of the event at 11am on Tuesday. "Khan's team had bought 60-70 tickets on their own and approached my office with permission for in-coach media interactions at 11am on January 23. We had given permission only for in-coach interviews but Khan's PR team tweeted and gave the event wide publicity, leading to the rush in Vadodara. The WR has asked the Railway Board to provide us stringent guidelines to avoid such incidents in future," Bhakar told DNA.
'Raees' Vadodara incident: Arrangements were foolproof, fans are star-crazed, says DG-RPF