Protesters stall shoot, manhandle Sanjay Leela Bhansali
Protesters stall shoot, manhandle Sanjay Leela Bhansali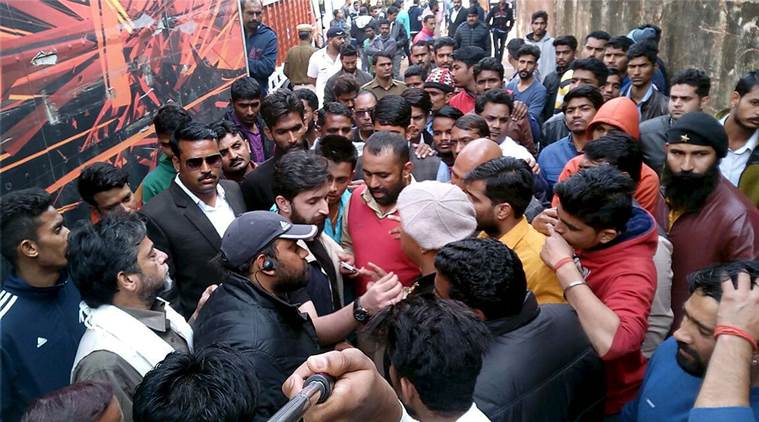 Jaipur: Karni Sena activists protest against the shooting of Sanjay Leela Bhansali's upconimg film 'Padmawati' alleging depiction of 'wrong facts' in it at Jaigarh fort in Jaipur on Friday. (Source: PTI Photo)
ABOUT 60 members of a caste-based outfit manhandled filmmaker Sanjay Leela Bhansali, damaged his crew's equipment and created a ruckus at Jaigarh Fort in Jaipur where Bhansali was shooting his latest movie Padmavati. Police said they were protesting against the portrayal of Padmavati — or Rani Padmini — in the film. "About 60 men, affiliated to Shri Rajput Karni Sena, reached Jaigarh Fort around 1 pm and indulged in sloganeering. They were unhappy over Rani Padmini's portrayal in the film. They claimed that the film has intimate scenes between the queen and Alauddin Khilji," said Narendra Kumar, SHO of Amer police station. The police said the film crew was startled by the sudden protest, which quickly escalated to violence.
"We have come to know that the film will have a shoddy and inaccurate portrayal of Rani Padmavati. In the film, Alauddin Khilji has a dream sequence with Padmavati. However, in reality, the Rani committed Jauhar (self-immolation) to escape Khilji; such was her character," said Sukhdev Singh, national president of Shri Rajput Karni Sena. "Despite highlighting this again and again, Bhansali and his crew were permitted to shoot in Jaigarh. Hence we had no option but to protest," he said.
"Over a month ago, we sent a letter to Chief Minister Vasundhara Raje through the Jaipur district administration, over our concerns," Singh said. "However, no action was taken." In one of the videos of the violence, Bhansali is seen sitting on a chair as the crowd approaches the crew. Upon spotting him, some of the protesters yell out to others, informing them about Bhansali. Even as those around Bhansali try to protect him, some manage to hit him, amid abuses and chants of 'Karni Sena Zindabad'. The protesters then begin hurling and breaking the equipment.
After the incident, Karni Sena's founder-patron Lokendra Singh Kalvi, DCP North Anshuman Bohmia and Bhansali, among others, had a meeting. "I submitted that the shooting should be stopped in Rajasthan. Second, the personal, real life relations between Ranveer and Deepika should not be played up on the pretext of romance between Khilji and Rani Padmini, the characters they play in the movie. Third, history should not be distorted under any circumstance," Kalvi said, claiming that Bhansali acceded to their demand. As for the violence, Kalvi claimed that someone with the crew security had fired in the air, which angered the protesters.
"Neither side has filed a complaint with us as yet. But we have arrested five protesters," said SHO Kumar. "We rushed to the spot. The matter has been sorted out and nobody will be allowed to take law and order in their own hands, that message has been sent out clearly. And people who have been affected have been told to give a complaint; as soon the complaint is given (to us), we will start the investigation and proceed further," said DCP Bohmia. Previously, Karni Sena had protested over Ashutosh Gowariker's 2008 film Jodhaa Akbar over "inaccurate portrayal of history". In 2014, it had attacked the office of Zee Media here over television serial Jodha Akbar.
Protesters stall shoot, manhandle Sanjay Leela Bhansali