Kumkum Bhagya 23th January 2017 full episode written update: Sarla asks Abhi to cancel the engagement
Kumkum Bhagya 23th January 2017 full episode written update: Sarla asks Abhi to cancel the engagement
Written by Neha Nigam | New Delhi |
Published:January 24, 2017 2:05 am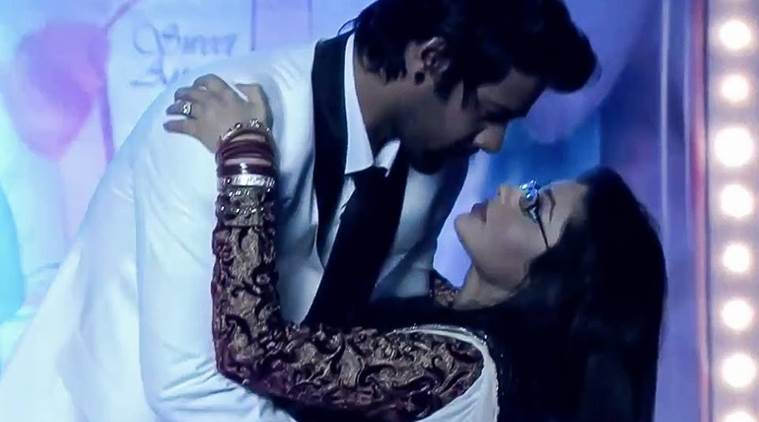 Kumkum Bhagya 23th January 2017 full episode written update: Abhi takes Pragya for engagement shopping.
Aalia and Purab get into an argument. Aalia says he has lost to them. Purab tells Aalia he will not leave her if she will tries to defame Pragya and her family. Abhi and Pragya reach Pragya's house. Abhi finds Sarla's behaviour indifferent. He checks if he has come at the wrong time.
Biji says Sarla is not well. But, Sarla says that there is something wrong Abhi did which has made her upset. Biji tries to interrupt but Abhi openly asks Sarla why she is angry at him. Biji asks her to get sweets for Abhi, Pragya follows Sarla to the kitchen. They argue about Purab's plan which failed according to Sarla. Pragya asks her to give a day's time to her and Purab and they will find the solution. Sarla says that she doesn't want to hurt the feelings of her dead daughter and also doesn't want anyone to spoil Pragya's name. She is worried that Aalia will make the engagement happen.
Sarla asks Abhi that if he wants to comfort her, then he should cancel the engagement of Pragya and Purab. She gives the argument that Abhi should have asked Pragya before selecting a groom for her. Abhi manages to convince her and congratulates everyone. He leaves.
Pragya thanks Sarla. Sarla asks her to call Purab and do something to stop the engagement otherwise she will tell everything to Abhi. She says she is more concerned for Pragya's reputation than anything else.
Abhi returns home, Aalia and Tanu are eager to know about Sarla's reaction to the news. They were sure that Abhi must have got a scolding from her, but Abhi tells them a different story. He says that Sarla gave gajar ka halwa to him to taste. Aalia and Tanu get surprised, Aalia says that Pragya is very smart, she must have asked Sarla not to react in front of Abhi. She says to Tanu that Pragya's smart brain cannot help her on the engagement day.
Aalia threatens Prgaya that she wants Sarla to suffer, she is planning to give a shock to Sarla at the engagement party. Pragya gets worried. Next morning, Pragya comes to Dadi and tells her about Aalia. Dadi asks her to call Purab. Purab says that he has one plan, but he will come home and discuss. Pragya tells Dadi that if they will not be able to stop the engagement, then Sarla will tell the truth to Abhi.
Abhi takes Pragya for engagement shopping. Pragya denies, but Abhi pushes her to shop. Aalia and Tanu also come there. Aalia takes Pragya on the side and challenges her. Pragya says that she wants to enjoy the day with Abhi and if she wants, she can wear the engagement ring from Abhi's hand.
Tanu gets scared and asks Aalia not to challenge her. Pragya smiles and goes to Abhi for selecting dresses for the function. Tanu says that they cannot take Pragay lightly, at the time of mangal sutra shopping, Pragya manages to wear the mangal sutra from Abhi's hand.
Abhi and Pragya get busy in selecting lehnga. Abhi drapes a shawl on Pragya and says that she is looking just like a bride. He gets lost in Pragya's beauty. Aalia and Tanu see them and get jealous. Aalia asks Tanu to interfere. Tanu goes there and snatches the lehnga from Pragya's hand. She says that the lehnga will look better on her rather Prgaya. She asks the sales woman to help her in draping. The sales woman identifies her. It seems Tanu has come to the same showroom with Nikhil before.
Kumkum Bhagya 23th January 2017 full episode written update: Sarla asks Abhi to cancel the engagement