Koffee With Karan Season 5: Priyanka Chopra reveals she is still the 'desi' Punjabi girl in Hollywood
Koffee With Karan Season 5: Priyanka Chopra reveals she is still the 'desi' Punjabi girl in Hollywood
Written by
A. Kameshwari
| New Delhi |
Updated: January 23, 2017 12:43 am
Koffee With Karan season 5: Priyanka Chopra was at her naughtiest best on Karan Johar's show.
Priyanka Chopra's fans back home who were yearning to catch a glimpse of her under the Indian skies, and hear her speak some Hindi and native English, were in for a treat in the latest episode of Koffee With Karan. PeeCee shed her global image and turned truly desi on the controversial couch of Karan Johar, while revealing a lot of stuff about her Hollywood life. No wonder, even Karan had a rather classic introduction for Priyanka, who has been the 'biggest newsmaker' in Bollywood last year.
No points for guessing, the episode started with Priyanka's Hollywood debut Baywatch, her American series Quantico and how she has been twirling and stealing the limelight at every red carpet in the world. But while we expected it to be a show of Bollywood vs Hollywood, soon turned out to be a revelation session between the actor-director, who were at their sassiest best to speak about anything and everything.
Talking about Baywatch, Priyanka even hinted that her co-star Dwayne Johnson, might visit India for the promotions. PeeCee compared Dwayne to Salman Khan. On being asked about how was he as a co-star and a person, she said, "He is very courteous." She took Salman's name for reference and explained how the Hollywood star, just like Bhaijaan, gives a gentleman feeling at a party and sits down for dinner with his entire family.
Well, now the exciting part. Priyanka soon came out of her guard and opened a lot of layers about a hell lot of things. Here are a few of them.
Quantico was her first ever audition
The 44-year-old actor spoke about being introduced to the concept of being auditioned, "I read 25 scripts and then said yes. In India, I didn't do any audition. When I went there for an audition… the sterility of it. There are empty room and a camera staring at you. Now being a Bollywood celeb, I was all decked up. So, the moment I walked in, they said, "we knew somebody has walked-in". I was nothing like Alex Parish."
Hollywood vs Bollywood
Priyanka said her Indian fans in US strike their elbows to the Americans to catch a glimpse of her during the shootings. She explained how Hollywood is never going to experience the kind of love Bollywood actors receive from people around. "When I am shooting there, thousands of people surround the area around. While I take selfies, meet and greet people, my co-stars just click pictures of the crowd because they have never seen the madness of how people believe in what we do. It is totally funny how Indian's push Americans around to meet us," she said.
More from the world of Entertainment: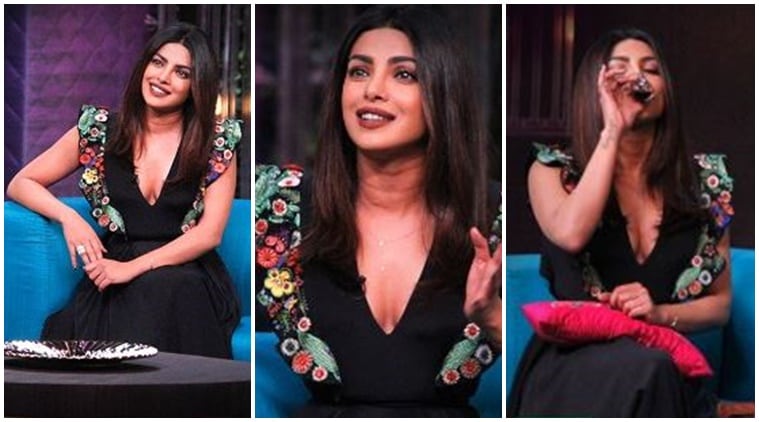 Her ten minute rendezvous with Tom Hiddleston
Well, we know how there was a lot of news around Priyanka and Taylor Swift's ex-boyfriend Tom Hiddleston when the two presented at the Emmys. Gossip mills were running high on reports of their after-awards party bonding. But Priyanka denied all of it. The actor said she barely interacted with him. "I met him for 10 minutes and then it becomes world news." She explained how all of this has never happened to her in India.
You are single till you get married
Priyanka had a convincing reply on being asked why she keeps her personal life under wraps. "I have never spoken about my personal stuff. The world will know when there's a ring on the finger. Till then, I am single till I get married." She asserted how proud she is that Indian female actors are proudly living their stardom irrespective of their pregnancy or wedding.
Comparison with Deepika Padukone
Blame it on their simultaneous Hollywood debuts, or their Bollywood face-offs, a lot has been spoken and written about the apparent rivalry between Priyanka and Deepika Padukone. PeeCee said she is glad more Indian actors are getting the opportunity to work. "My idea was to make it concrete. I am proud of all the actors including Deepika and Sonam going Hollywood. But I just don't want that we go back to the stereotype that existed about Bollywood there. People there will always try to pull you back."
Watch | Priyanka Chopra talks about her marriage:
Finally Queen Hails The Couch On #KoffeeWithKaran #KoffeeWithPriyanka
Coming Next Week @priyankachopra
😇❤👼❤😇
pic.twitter.com/iL4saxRELa

— अNMOL K MAHTANI (@aKm07) January 15, 2017
Priyanka had almost punched Karan Johar once
She proved that she is a no nonsense person. At least, that's what KJo's story proved to support her expression. Karan said, "I was supposed to be Mary Komed for groping you from behind."
Talking about why Priyanka never spoke about her relationships or never thought to associate herself with biggies, the Quantico actor said, "A lot of things like that happened but it is no one's business. There is no point of it (being vocal about relationships) because you never know for how long it will remain. Nazar bhi lag jaati hai."
The rapid fire round was modified into a Koffee shots round. Taking the famous tradition of the host giving shots to Priyanka forward, even Karan got her "drunk" but with a twist. He threw some no-bars attached questions about Priyanka's personal life, to which she had no option but to reply honestly. Yes, immensely honest she was, so much so that she had to beg that she hopes her mother doesn't watch the show!
Karan asked Priyanka to gulp a coffee shot as a yes to a question. Here is the list of 'sins' she wished she hadn't accepted of committing:
Kissed an ex after break up – Yes
Judged someone's fashion sense at a party – Yes
Had phone sex – Yes
Hit 'send' and immediately regretted – Yes
Sent a sensual message – Yes
Taken shower with partner – Yes
Made out with lights off – Yes
Priyanka also denied of being dressed for role-play in bed, called someone by the wrong name while hooking up and lied about being a virgin!
This woman is not just ruling Indian hearts, Hollywood screens, but even the couches! This was one of the most eye-popping and extremely bold episodes this season. Hail Priyanka!
Koffee With Karan Season 5: Priyanka Chopra reveals she is still the 'desi' Punjabi girl in Hollywood