John Hurt, star of 'Harry Potter' franchise and Oscar-nominated 'The Elephant Man', dies at 77
John Hurt, star of 'Harry Potter' franchise and Oscar-nominated 'The Elephant Man', dies at 77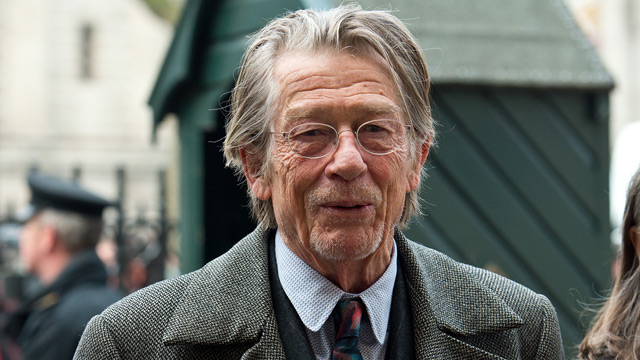 John Hurt, the British stage and movie actor, passed away at the age of 77 after battling pancreatic cancer, reports Daily Mail.
For the younger generation, Hurt was known as Mr. Ollivander from the Harry Potter franchise. He first appeared in Harry Potter and the Philosopher's Stone and then was seen in both the parts of Harry Potter and the Deathly Hollows. The actor also received an Academy Award nomination for his work in Midnight Express (1978). But his most acclaimed role was of John Merrick in David Lynch's The Elephant Man.
Hurt was also a crucial part of Ridley Scott's Alien. He played the role of Kane, the very man out of whose torso the snakelike alien bursts out.
His phenomenal career included roles in BBC's Doctor Who. He was the War Doctor in the special episode created for the 50th anniversary of the show. Speaking of the Doctor Who fandom Hurt told The Guardian, "I've done a couple of conferences where you sit and sign autographs for people and then you have photographs taken with them and a lot of them are all dressed up in alien suits or Doctor Who whatevers. I was terrified of doing it because I thought they'd all be loonies, but they are absolutely, totally charming as anything. I'm not saying it's the healthiest thing — I don't know whether it is or isn't — but they are very charming."
He also won hearts with his roles in the Naked Civil Servant and The Gruffalo.
Spanning over six decades, Hurt's career got wings with A Man for All Seasons in 1966. He also starred in the movie adaptation of George Orwell's 1984. His last role was as the priest in the Oscar-nominated movie Jackie based on the life of John F. Kennedy's widow.
Hurt was honoured with a lifetime achievement award by British Academy of Film and Television Arts (BAFTA) in 2012. In July 2015, he was knighted by Queen Elizabeth II. At the time, he said, 'It does make one inordinately proud.'
Hurt was born on January 22, 1940, in Chesterfield, Derbyshire, England. He studied to be an art teacher but abandoned the path only to win an acting scholarship at prestigious Royal Academy of Dramatic Art (RADA). Then there was no looking back.
Hurt is survived by his wife of 12 years Anwen Rees-Myers and sons Alexander and Nicholas.
John Hurt, star of 'Harry Potter' franchise and Oscar-nominated 'The Elephant Man', dies at 77