Hrithik Roshan believes in 'us', not 'me': Urvashi Rautela on Kaabil
Hrithik Roshan believes in 'us', not 'me': Urvashi Rautela on Kaabil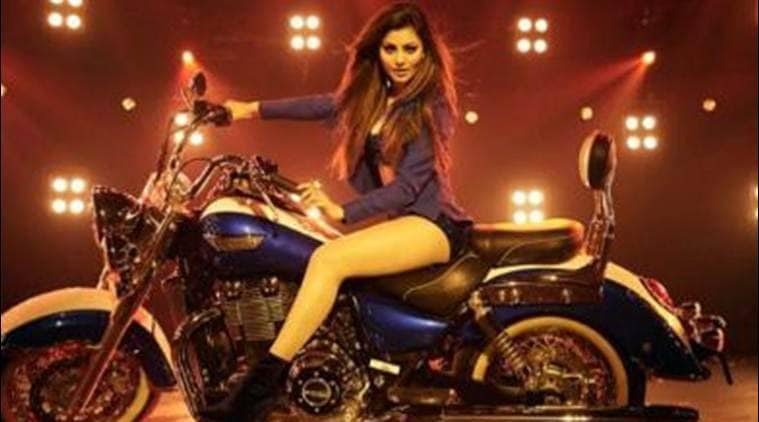 The gorgeous Urvashi Rautela was initially famous for being the only woman to have won the title, Miss Universe India, twice.
The gorgeous Urvashi Rautela was initially famous for being the only woman to have won the title, Miss Universe India, twice. Right now, she is in the news for being the Haseeno Ka Deewana number. Her special song from Hrithik Roshan, Yami Gautam's Kaabil has added the sizzle and has already clocked over 50 million views.
You ask her to dance and she will do it without a thought, she will sing too, and that too very well! She says she wants to be a complete entertainer. The beauty queen talks about how the song has changed her life and what are the future plans.
How was your experience dancing on Haseeno Ka Deewana for Kaabil?
The experience was fabulous! Hrithik Roshan was there throughout the shoot, and because of the wonderful choreography by Ahmed Khan. It was one of the 'bestest' experiences of my life till now. And I think it was an amazing direction by Sanjay Gupta, and because of Rakesh Roshan also, he made the song such a grand song.
How was your experience working with Hrithik Roshan and team Kaabil?
It was a really precious experience of mine, he (Hrithik Roshan) was a huge inspiration for me. He motivates a lot. I still remember how for him it is 'us', not 'me'. He would never say that I'll do this or this is my film, it is always 'our' film for him. When I met his at the special screening of the film, I hugged him and congratulated for this film, and he told me "No Urvashi, it is our film!" He believes in unity and teamwork and that's what I do too. I totally love this about him.
How was your transition journey from being a model to a Bollywood actress?
The transition has been really nice, I was also a beauty pageant winner and the youngest girl to win the maximum number of beauty titles; I was also a teen supermodel to walk the runway for India Fashion Week and Lakme Fashion Week. The transition has been great, I love acting and I am here for it. I am completely enjoying the process!
What kind of work are you looking forward to in the industry?
Well, I have just started my journey, so I am looking out for different kind of genres and work with different kind of directors and actors. I haven't done much so I want to attempt and do everything. I want to do work with good content. The script matters a lot, the script is the hero of the film after all!
A quick rapid fire with Urvashi Rautela…
One actor you want to be paired opposite to in a film?
I want to work with all the actors- Hrithik Roshan, Shah Rukh Khan, Salman Khan, and Amitabh Bachchanji, Aamir Khan and Akshay Kumar.
What is the next project you're working on?
I can't disclose it just yet, but ya I am reading a lot of scripts and you'll hear more details very soon!
What are your plans for the future?
As an actor, I want to be a complete entertainer! I want to be an actor who can sing and dance, someone who can be a performer. I am here to do it all!
What is your hidden talent?
My hidden talent? I can remember birth dates of anyone I meet, I don't forget birthdates! If they meet me even after two or three years, I'll still remember their birthdates.
What is your sex appeal?
My confidence.
Also Read: Sanjay Leela Bhansali slapped, assaulted by protesters on Padmavati sets in Jaipur, watch video
Munni badnam hui, Sheila ki Jawaani, Fevicol se, Beedi jalaile, Baby Doll or Chikni Chameli… your favourite item number, and why?
I wouldn't call it an item number, but a special song. It is Haseeno Ka Deewana. It is the best and it is trending, and it has gotten more than 55 million hits already and counting. Also because it has a background story that it was done by Mr. Amitabh Bachchan and it was an iconic song of the eighties. So yes, Haseeno Ka Deewana is the best.
Rank these Bollywood stars in terms of their sex appeal: Shah Rukh Khan, Salman Khan, Akshay Kumar, Hrithik Roshan, Aamir Khan.
Hrithik Roshan, Salman Khan, Akshay Kumar, Shah Rukh Khan, Aamir Khan.
Modelling or Acting?
Acting.
Red Carpets or photo shoots?
Both of them, but red carpet.
Your dream role?
Would be a biopic. I am a national level basketball player, ya, so any sports biopic.
Your guilty secret?
I love chocolates.
Hrithik Roshan believes in 'us', not 'me': Urvashi Rautela on Kaabil