Here are the things Jackie Chan did on The Kapil Sharma Show
Here are the things Jackie Chan did on The Kapil Sharma Show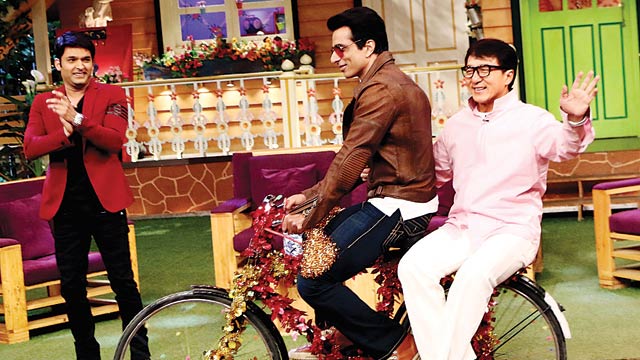 Jackie Chan, who was in Mumbai for a day, to promote his upcoming film Kung Fu Yoga shot for The Kapil Sharma show with his co-stars including Sonu Sood. Initially, they had planned Jackie's entry on a Harley Davidson bike, but Sonu suggested they ride a bicycle with the theme song Desi Boyz being played. So, Sonu rode it with Jackie in the backseat.
The funniest parts of the show are the interactions between Kapil and Jackie, reveals Sonu. He says, "Kapil is not so good in English and neither is Jackie. So, the conversation between them is hilarious. At one point Jackie spoke in Chinese, while Kapil conversed in Hindi!"
Jackie was made to say some iconic dialogues of Amitabh Bachchan like the one from Deewar —Mere paas bangla hai, gaadi hai, tumhare paas kya hai — with Jackie saying, "mere paas ma hai." Shatrughan Sinha's famous catchphrase Khamosh was also mouthed by Jackie, and it sounded "cute", according to Sonu. He was also made to do the signature Shah Rukh Khan air hug.
At one point, Jackie said that he has been having red (rajma) and green bean soup for years giving out his reason for strength and flexibility.
Here are the things Jackie Chan did on The Kapil Sharma Show