Fans watching 'Kaabil' get HYSTERICAL as Hrithik Roshan pays a surprise visit to Chandan cinema
Fans watching 'Kaabil' get HYSTERICAL as Hrithik Roshan pays a surprise visit to Chandan cinema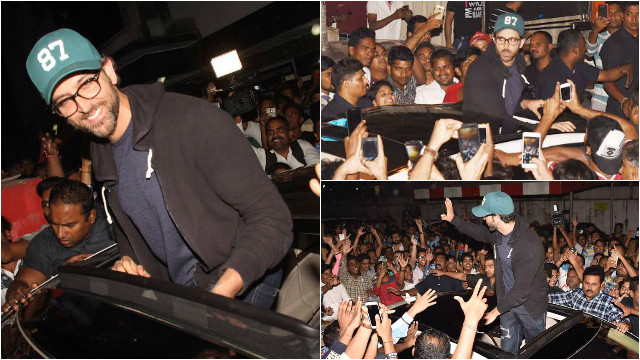 Hrithik Roshan's Kaabil is doing exceptionally well at the ticket windows. The actor has garnered immense praise for his performance in the film from the audience and the critics alike which has given him another reason to smile.
Overwhelmed by the response, Hrithik decided to make an impromptu visit to a suburban movie theatre in order to see the reaction of the audience himself. Needlesss to say, seeing their most loved star among themselves, the fans watching Kaabil in Chandan cinema went hysterical.
Some of them even tweeted the videos of Hrithik from the venue. Hrithik also shared one such video on his Twitter account and wrote, "When I started d Chandan tradition with kaho na pyaar hai. Nobody noticed in d dark. Thank U cellphone flashes. Today was brighter ;)".
Check out the video here:
@iHrithik at chandan

Pure madness #Kaabil pic.twitter.com/REpoEdq6wM
— Ani (@Aniketh34) January 26, 2017
When I started d Chandan tradition with kaho na pyaar hai. Nobody noticed in d dark. Thank U cellphone flashes. Today was brighter 😉 https://t.co/yCr7U130Oj

— Hrithik Roshan (@iHrithik) January 26, 2017
Fans watching 'Kaabil' get HYSTERICAL as Hrithik Roshan pays a surprise visit to Chandan cinema