Bigg Boss 10 January 28 preview: Finalists compete in celeb vs Indiawale debate, Farah Khan turns moderator
Bigg Boss 10 January 28 preview: Finalists compete in celeb vs Indiawale debate, Farah Khan turns moderator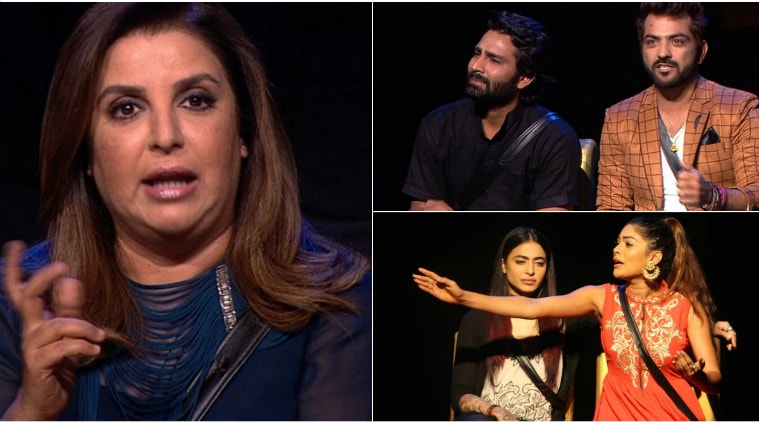 Bigg Boss 10 January 28 preview: Bani, Lopamudra, Manu and Manveer will face a panel who will raise questions about their stay inside the house.
With just one day left for the grand finale of Bigg Boss 10, the four finalists – Bani Judge, Lopamudra Raut, Manu Punjabi and Manveer Gurjar will face several tough questions by a panel in tonight's episode. They will be judged by a self-confessed Bigg Boss fan and filmmaker Farah Khan. Bigg Boss asks Manu, Manveer, Lopa and Bani to assemble inside the activity area for an elaborate panel discussion on the topic – "Celebrities vs Indiawale – who deserves to win Bigg Boss."
Also read | Bigg Boss 10 finalist Manveer Gurjar has not won the show yet, clarifies his brother. Watch video
Leading the panel are ex-bigg Boss contestant Puneet Issar and RJ Malishka as they support the celebrities while actor Ravi Dubey and journalist Sweta Singh back the Indiawale. Farah becomes the moderator of the debate. As the discussion takes place, Farah asks all four finalists to put across their point of view. Manu says that an Indiawala deserves to win since the commoners have shown extreme determination in every task as compared to the celebrities.
Watch | Bigg Boss 10 January 27 Review: Bigg Boss Takes The Finalists Down The Memory Lane
On the other hand, Lopa says that the celebrities have achieved a lot of things in their lives so far and that's an added advantage that they have over the Indiawale contestants. Manu contradicts her point and says that they need to talk about Bigg Boss and not about their previous achievements. Farah agrees with Manu and says that the celebrities have contributed the least in all the tasks.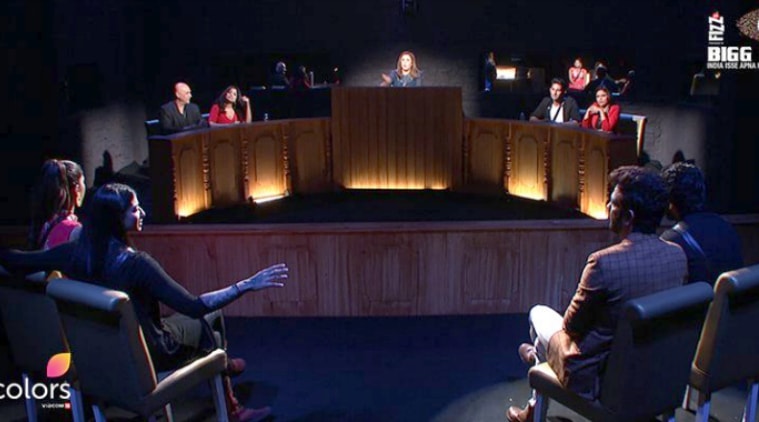 Furthermore, Puneet puts across a point that Indiawale became aggressive and brash during the tasks and asks them for a justification. Malishka seconds Puneet's point and puts allegations on commoners for crossing their limits. In their defense, Manu and Manveer say that Bigg Boss was like a golden opportunity for them and they wanted to make most of it. They did make mistakes, fell down, got back on their feet but still fought every battle or challenge with utmost honesty. They further said that they did condemn Swami Om and Priyanka Jagga but the latter's actions don't prove that all Indiawale were destructive.
Meet our panel: @TheFarahKhan, @mymalishka, @_ravidubey, @ImPuneetIssar & @SwetaAajtak! How will the housemates face them? #BB10GrandFinale pic.twitter.com/IxuVkfi8n0

— Bigg Boss (@BiggBoss) January 28, 2017
On the other hand Ravi and Sweta question Lopa and Bani for having superiority complex and for not warming up to the Indiawale contestants. Lopa and Bani defend themselves, saying that they never showcased that they were superior to anyone. In fact, the Indiawale contestants always stayed close knit and did not mingle around with the celebrities. Manu and Manveer say that Mona Lisa, who was a celebrity, was undermined and highly criticized by her fellow celeb contestants and it was the commoners who resurrected her confidence and supported her in the game.
Also read | Bigg Boss 10: Who will win the show? Cast your votes
The debate gets more intense as the panelists interrogate the contestants while they try their best to give befitting replies.
In the evening, as the finalists gear up for the last leg of the finale, they get a surprise makeover at the hands of beauty experts. Well whether it will be a celebrity or a commoner holding the trophy of Bigg Boss 10, will only be disclosed tomorrow.
Bigg Boss 10 January 28 preview: Finalists compete in celeb vs Indiawale debate, Farah Khan turns moderator