Bigg Boss 10 January 26 Preview: Manoj Punjabi, Manveer Gurjar friendship is over
Bigg Boss 10 January 26 Preview: Manoj Punjabi, Manveer Gurjar friendship is over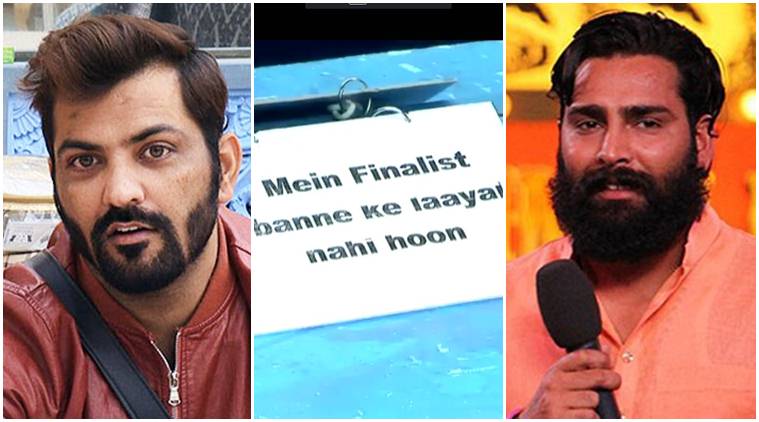 Manveer Gurjar gives 'Mein Finalist Banne Ke Laayak Nahi Hoon' tag to close friend, Manu Punjabi.
As Bigg Boss 10 is coming to an end, it seems the long-running rivalry between Bani Judge and Lopamudra Raut is turning into a cordial relationship while the best-ever friends of the house, Manveer Gurjar and Manoj Punjabi, are drifting away due to competitive nature and jealousy.
Will the end of the show see a rift between the closest of friends, Manveer and Manu? Well, seems like that. During the on-going luxury task, Manveer has been asked to title somebody among his co-contestants to wear a tag 'Main Finalist Banne Ke Layak Nahi Hu' for an entire day. While he has two minds about who is actually deserving, to the audience's surprise, Manveer hands over the tag to Manu. Later, Manu obviously lashes out. He furiously throws away the placard.
Who Will Win Bigg Boss 10? This Bigg Boss Discussion Is Better Than The Reality Show
However, the day starts on a lighter note. The contestants welcome ex-contestants Lokesh Kumari, Rishab Sinha and Naveen Prakash in the house. While the housemates are extremely excited to see them back in the house, Rishab accuses Manoj of playing smart and manipulating Manveer.
Lokesh Kumari comes with a lot of positive energy as she asks Bani to list five of Lopa's good qualities with the hope to end the hostility between the two. While Lopa was seen crying after being insulted in the previous episode, she can't stop laughing in this one as Bani energetically executes the assigned task.
Watch Bigg  Boss 10 videos here: 
#ManveerGurjar gives @TheManuPunjabi tag of 'Main Finalist Banne Ke Layak Nahi Hu'! Will Manu take this sportingly? #BB10GrandFinale #video pic.twitter.com/vgpFcq4hpA

— Bigg Boss (@BiggBoss) January 26, 2017
#LokeshKumari comes back to the #BiggBoss house with positive energy & breaks the wall between @lopa9999 & @bani_j! #BB10GrandFinale #video pic.twitter.com/fbCVbRSbSY

— Bigg Boss (@BiggBoss) January 26, 2017
Now that the finalists of Bigg Boss 10 have been announced, the four contestants also get all emotional and nostalgic. On completing their final task 'BB Mela' in the Bigg Boss journey, Manu, Bani, Manveer and Lopa have tears in their eyes.
Also read | Bigg Boss was not fair to me, showed favouritism to commoners: Rohan Mehra after eviction
Hugging it out, they send their best wishes to Bigg Boss when he praises the contestants for their sincerity throughout the show.
Bigg Boss 10 January 26 Preview: Manoj Punjabi, Manveer Gurjar friendship is over