Bigg Boss 10, 28th January 2017 written update: Farah Khan moderates a debate between Manu, Lopamudra, Manveer and Bani
Bigg Boss 10, 28th January 2017 written update: Farah Khan moderates a debate between Manu, Lopamudra, Manveer and Bani
Written by Bhumika Sharma |
Published:January 29, 2017 3:03 am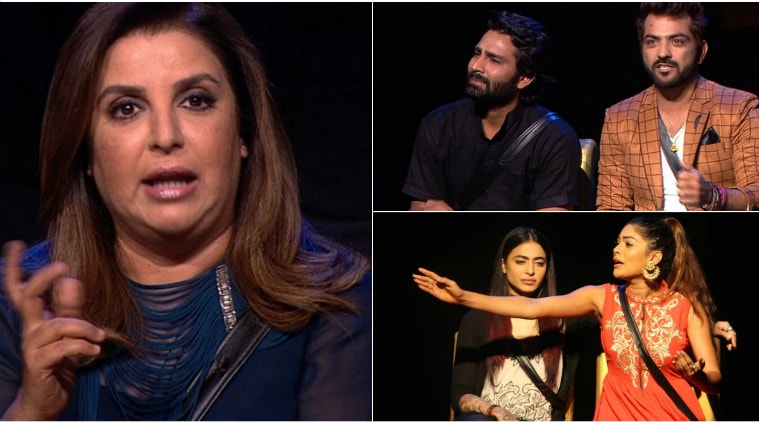 Bigg Boss 10, 28th January 2017 written update: Manveer says he is scared about the questions he would have to face after exiting from the show.
Farah Khan opens the episode by entering the house. She enters the 'camera gali' and tells the viewers what Manu, Manveer, Lopa and Bani are doing. All four contestants enter in the activity area and Bigg Boss announces a court proceeding. Television actor Ravi Dubey, RJ Malishka, Puneet Issar and news anchor Shweta participate in the proceedings. Discussing about Swami Om's behavior in the house, Manveer is blamed for supporting Swami in his actions. Farah alleges Manveer and Manu of supporting Priyanka as a captain.
Ravi Dubey asks Bani about her motivation in terms of winning the show. Bani replies by saying that performing a task is not everything in the house. Farah again asks the contestants about the divide of celebrity and Indiawale. Manveer is questioned about playing along with Manu. He says that he will be very happy if Manu wins the show. Malishka further questions Manveer that if he really wants Manu to win the show, then why he didn't let Manu win the captaincy task.
Next up, Bani is made the target. Farah asks Bani about her friendship in the house. Bani replies by counting her friends on the show, taking names of Mona, Rahul, Rohan and Gaurav. Manu adds fire by saying that Bani makes friends after seeing opportunity. He says for Bani, it is friends with benefits, to which Bani furiously replies that she thought that he is her friend and he can't talk about her like this behind her back. She also adds that it is very difficult for a person to be alone all the time, without any friends or support.
Ravi Dubey asks Bani about Priyanka Jagga's fight with Lopa and her stand on the same issue. Bani replies by saying that she never knew about the topic of boycotting Priyanka Jagga and that is the reason why she didn't ignore Priyanka Jagga. At this point, Farah takes the opportunity to highlight Priyanka Jagga's event in which she said rubbish about Manu's mother and asks Bani why she didn't take a stand on it. Bani says sorry to Manu about the same and adds that she was sleeping that time.
Next, Manu takes the seat in the custody where he is alleged 'Thali Ka Baingan.' He gracefully accepts the allegation and says that yes, he is double-faced. Lopamudra Raut is the next one who is called. She is alleged for being immature about handling Mandana's viewpoint about her. She says that initially she took whatever Mandana said as an insult to her but, later when she analyzed, she understood that Mandana's viewpoint is not everything.
Bigg Boss bid farewell to the guests who wished the contestants good luck for winning the show. After the discussion, Lopa, Manu and Manveer are seen discussing about the court proceeding and allegations charged on them. Bani joins the conversation and tells Lopa that she should have observed the Manu-Mona-Manveer friendship. Manveer says that he is scared about the questions he would have to face after exiting from the show. Bani says everything comes with a side effect and so does this show. She advises Manveer to show patience while answering the questions and tackling situations after exiting from the show.
Bigg Boss 10, 28th January 2017 written update: Farah Khan moderates a debate between Manu, Lopamudra, Manveer and Bani