Bhansali roughed up, Padmavati set vandalised; Bollywood strongly condemns attack
Bhansali roughed up, Padmavati set vandalised; Bollywood strongly condemns attack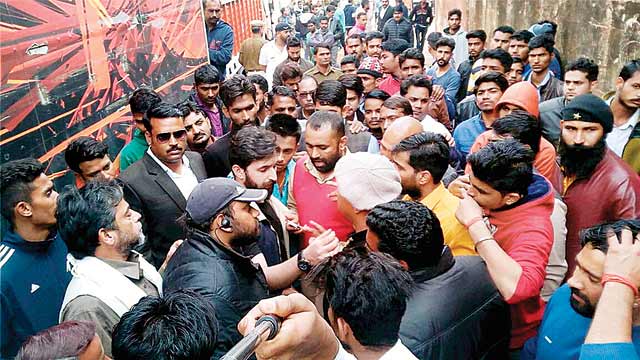 Bollywood director Sanjay Leela Bhansali was allegedly roughed up and the set of his under-production film Padmavati vandalised by members of a Rajput organisation when the shooting was in progress at the Jaigarh Fort here on Friday.
The film's shoot was stalled after the incident as the production team huddled together to decide on the next course of action. The SLB production house CEO flew to Jaipur late at night. No case from either side was filed till reports last came in.
Members of Karni Sena, a Rajasthan-based Rajput outfit, interrupted the shooting of the film. According to police, the sets looked ravaged and the crew has reported several of their equipment broken.
Karni Sena patron Lokendra Singh Kalvi, however, said the escalation was not on their end. "Bhansali's bodyguard who were escorting him fired shots before the police were called in," he said. Ever since Bhansali announced his film based on the life of Chittor queen Padmavati after Bajirao Mastani, Rajput community has been roiled by what they term as "contorting history" for the big screen. Terming the plot of the movie as distortion of historical facts based on reports about intimacy between Chittor Queen Padmavati and Allaudin Khilji, second ruler of Khilji dynasty who attacked Chittor in 14th century, in the film, some Rajput outfits have openly registered their protest.
Activists of Karani Sena reportedly reached the fort Friday afternoon, shouting slogans against the movie and demanding a halt on film's shooting. They were miffed with Bhansali who despite reminders in past did not listen to their objections and proceeded with the shooting. Heated arguments then ensued between the film's crew and the outfit members who reportedly tried to manhandle Bhansali who was seated at the site and protected by crew members who threw a human cordon around him. A video footage of the said incident shows the crew in shock and their electronic devices, furniture and sets strewn around the fort's roof.
Lokendra Singh Kalvi who heads the outfit denied there was any violence on their part. "We are against the falsehood woven into a historical subject," he said. Police detained five activists of Karni Sena who were in custody till reports last came in.
Bhansali roughed up, Padmavati set vandalised; Bollywood strongly condemns attack