Badminton and Bollywood to Babies with Vin: 5 things Deepika Padukone said on The Ellen DeGeneres Show!
Badminton and Bollywood to Babies with Vin: 5 things Deepika Padukone said on The Ellen DeGeneres Show!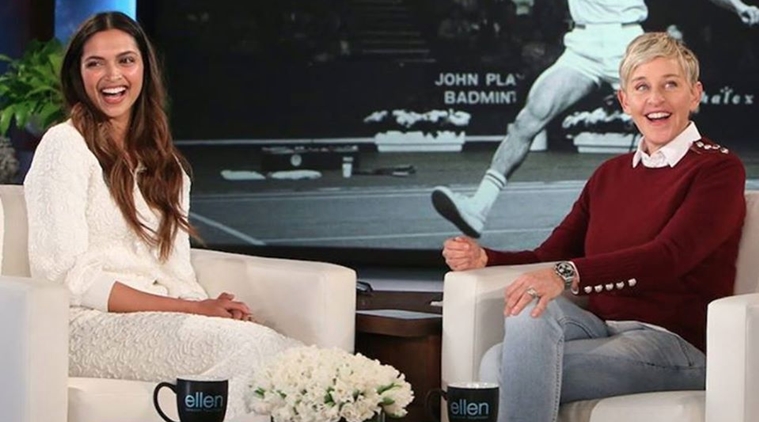 Deepika Padukone made her debut on American television with her first talk show shoot. And she picked The Ellen DeGeneres Show over everything else to make her grand debut. ​And Dippy was being her candid self. In the four minute video that was unveiled, Deepika discussed about everything – from her first portfolio and her love for badminton to having babies with Vin.
First portfolio:
Dippy spoke about her Indian origins and how, at the of 16, she asked her mother for Rs 10000 to get a professional portfolio made. She also rpomised her mom that she will return that money to her one day and like Ellen says, she must have done a lot more than that.
Playing badminton would have made my dad happy!
Prakash Padukone was one of the most celebrated Badminton players from India. So when Ellen asked whether he approved of Deepika's decision to become an actress, she said, "My dad was a badminton player at a time when every Indian wanted to become a lawyer, engineer or doctor. He always asked me to follow my heart. One day, I sat them down and told them I want to become an actress."
I didn't know it was happening!
Deepika narrated the entire incident and explained how she eventually bagged her first Hollywood film. "I actually auditioned for
Fast 7 about 2-3 years ago and for whatever reasons, that didn't work out. I guess people remember me from that audition. Everyone spoke about that chemistry. About a year ago, I got a call from Paramount where they said they are casting for this film and I flew down, I met DJ Caruso my director and then Vin found out and wanted to meet me. Luckily, I had a visa so overnight I flew down to meet Vin. Suddenly, in the middle of the night, we were doing this 45 minute photoshoot and I was like, 'what's going on?' I didn't know if I got the part. That was it. He just put it up and he still didn't say anything."
That's not Vin!
Once the picture was up, Deepika got calls from various journalists and she replied back to them saying, "No, that's not Vin!" We know how much DP actually tried to dodge those questions, during Bajirao Mastani promotions.
No smoke without fire!
It was for all to see that Vin Diesel was full of praises over his xXx: Return of Xander Cage co-star, Deepika Padukone, jus tbefore of the film's release in Mumbai, last week. And Deepika seems to be returning the favour, as they begin promotions in Hollywood ahead of the film's US release tomorrow. However, the highlight of the show was when host Ellen remarked that the picture that fuelled speculations of her doing a film with Vin had an element of romance. And Dippy gushed saying, "Well, there is no smoke without fire, you know… I mean in my head I think, like yeah, we are together and we have this amazing chemistry, and we live together and we have these amazing babies! But it's all in my head."
Watch the episode here:
<
p class="wpematico_credit">Powered by WPeMatico