10 movies to inspire you in 2017
10 movies to inspire you in 2017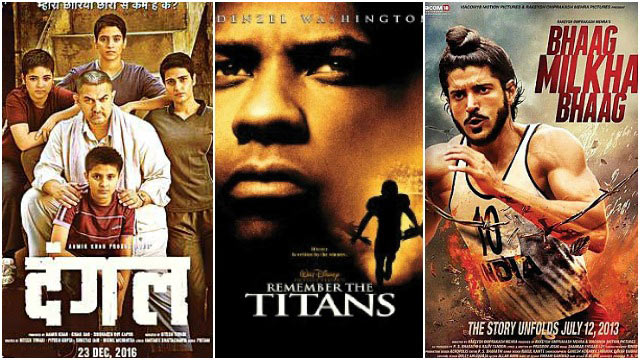 Chak De! India
This Bollywood classic is based on a Muslim coach, played by Shah Rukh Khan, who was accused of aiding Pakistan in winning the Hockey finals in the World Championship. This movie teaches lessons about racism, sexism and hard work. It concentrates on togetherness and equality, and will definitely inspire you to get on your feet and do something big.
3 Idiots
The movie is based on three college students, two of them who are stuck in life's race to study, get a job and get on with their life. They soon realise the flaw in this concept, and end up changing their ways completely. 3 Idiots will make you think differently and get out of life's rut.
Up
While Up may be an animated movie, it is still one of the most inspiring ones. This movie, about two explorers who fall in love because of their mutual interests, will make you fall in love. It is one of those movies that will make you cry but you still can't help but adore it.
Bhaag Milkha Bhaag
This popular Bollywood movie based on the prodigy runner Milkha Singh, talks about how the athlete succeeded, and the hardships he went through during the India-Pakistan war. It shows you how sometimes we need difficult situations in order to succeed later on, and how obstacles prepare you for the best and the worst.
Dangal
This movie is still running in theatres, so catch it as soon as you can. It is based on the real-life story of Geeta and Babita Phogat, and their wrestler father, Mahavir Singh Phogat. The way this movie portrays women as strong forces that have a huge willpower will make you want to go out there and beat up the first boy you see.
Remember the Titans
Based on a football team that was coached by a black man, the film is about race equality, and working together no matter how different you are. The inspirational things said in this movie will definitely change the way you feel and think. The story of the Titans is not one to be forgotten.
The Blind Side
It focuses on a boy with a drug addict mother, who runs away from foster care. A woman takes him under her wings, offers him shelter… and inspires him to become a football player. From a boy with poor grades, no family and nothing to live for, he rises to become an NFL star and, most importantly, a good human being.
Life is Beautiful
Set in the backdrop of World War II, the movie is based on the relationship of a Jewish-Italian bookshop owner, Guido Orefice and his wife. The plot revolves around Guido who uses love to overcome difficult situations. This love story shows you how love can make you go to crazy lengths just to protect your loved ones.
Forrest Gump
This movie, about a mentally-challenged boy with a troubled childhood will definitely inspire you. It teaches us that you can find love and happiness no matter what the circumstances, and anyone can achieve great heights, no matter what the obstacles. Gump is a hero for every generation.
Eat Pray Love
This movie, based on the novel of the same name, is about a woman who is unhappy with her life, and wants to go on a trip to 'find herself'. She goes from Italy to India to Indonesia, and starts to rediscover passion and the pleasures of life. It will surely make you go soul searching, especially after you see how she turned out in the end.
<
p class="wpematico_credit">Powered by WPeMatico